ARAGÓN, A NATURALIST'S PARADISE
The Autonomous Community of Aragón stands out for its varied birdlife, a direct result of the wealth of habitats found here, due to different biogeographic factors such as: relief, climate, soil types, altitude and orientation. The fact that Aragón occupies the main central part of the Ebro valley, from the frontier with France down to the Iberian System means that within a distance of under 100kms we can find a broad range of environments. Thanks to this diversity of habitats, a very low concentration of human population in 90% of the region and a relatively good state of conservation, we can find large numbers of a wide variety of bird species. Records show 370 species, of which more than 200 breed here, while the rest overwinter, migrate or are found as vagrants.
Their origins are also diverse, from typical Euro-Siberian birds to Mediterranean and Indo-African species. Whilst human action has had a big impact on the environment, there are still many large areas with a very good level of conservation.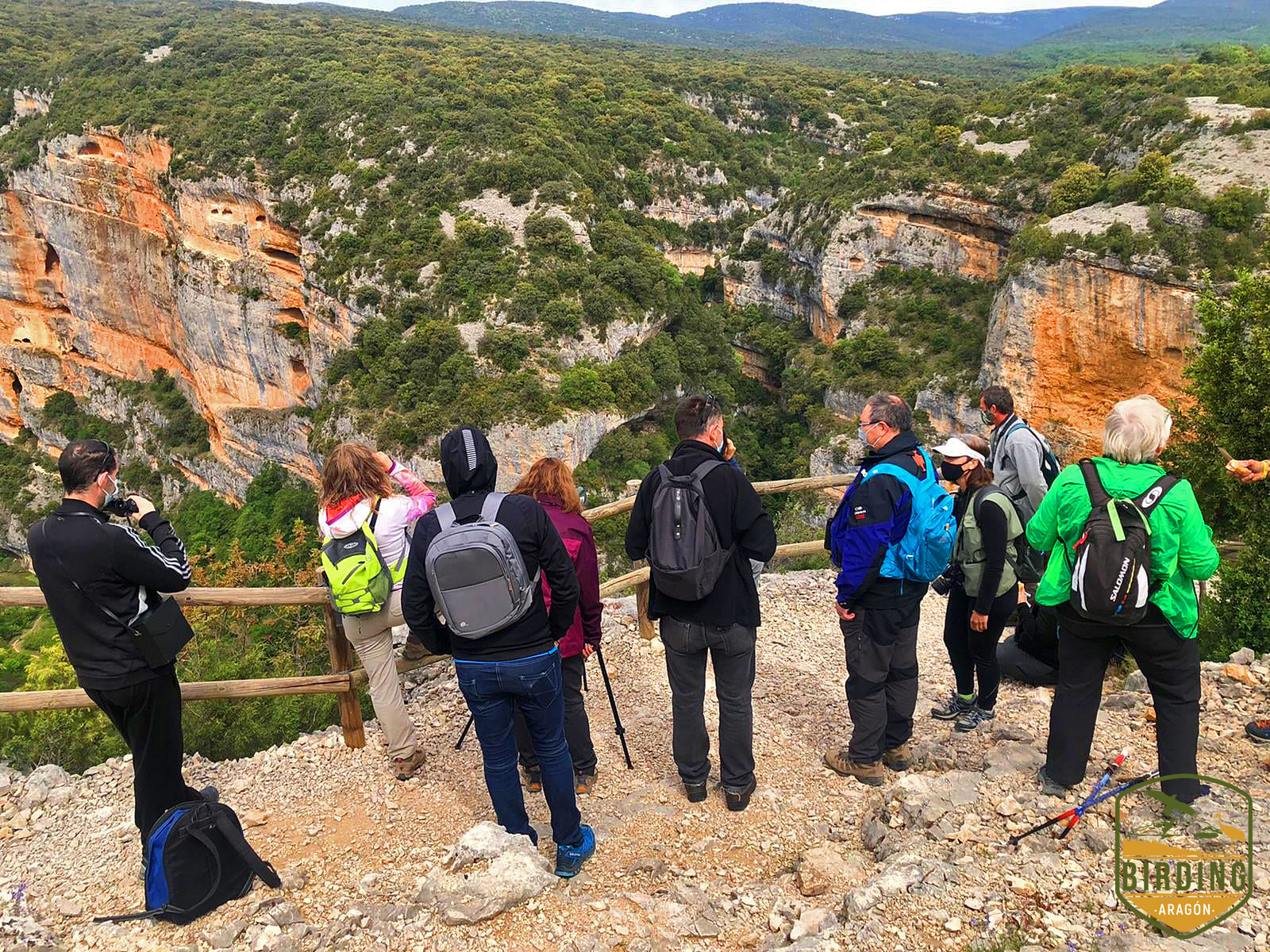 High mountains and rocks​
The high mountains of Aragón are one of the world´s most interesting biological areas. This highly specific ecosystem is home to some truly interesting bird species that are difficult to see in other areas or simply not present in much of the rest of Europe. The area has protected natural spaces from the 3000 metre high summits to the rugged hills of the Pre Pyrenees.
Aragón has many canyons and gorges with soaring cliffs which are fascinating ecosystems with a wide range of bird species.
Forests and rivers​
33% of Aragón is forested with many different forest areas ranging from the Mountain Pine forest of the high mountains to the Holm Oak and pine forests of the dryer, more Mediterranean landscapes further South. With such diverse forest ecosystems we find a range of forest specialising bird species.
Along the rivers and reservoirs dense stands of Poplar, Willow, Bramble and Tamarind provide a habitat for a wide range of bird species and wild animals.
The Steppe and Mosaic Farmland ​
Aragón has a huge area of steppe landscape – with huge skies, long views and wide-open spaces. In Spring the steppe comes alive with a short-lived explosion of colours, scents and life. Steppe species such as Dupont´s Lark are adapted to the tough climate with extreme temperatures and long periods of drought. The high steppes in Teruel (1000 metres above sea level) are beautiful wild landscapes with an amazing biodiversity. Extensive, dryland cereal areas are also an important habitat for Great and Little Bustards and Black Bellied and Pin Sand Grouse.
Wetlands & Lakes​
Numerous and interesting wetlands dot the Aragonese territory with marshes, lakes, oxbow lakes along the rivers and endorreic lakes in the steppe areas. Two of them are declared of international importance and are included in the Ramsar Convention. The wetlands are spaces of great beauty and are vital resources for wildlife including a rich variety of bird species which you can watch from a network of hides and observatories.